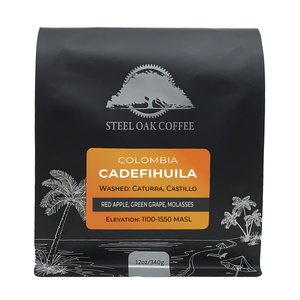 Colombia - Cadefihuila
Sale price Price $16.75 Regular price
Location at Origin: Nieva, Huila
Cooperative: Cadefihuila
Processing: Washed
Varietal(s): Caturra, Castillo
Altitude: 1,100 - 1,550 MASL
Roast Level: Medium
Cupping Notes: Red Apple, Green Grape, Molasses
Certifications: Rainforest Alliance
Huila is known for producing some of the best coffees in Colombia. 
Located in Nieva, Huila, Cadefihuila was established in 1963 when a group of coffee growers joined forces to develop opportunities for sustainable coffee growing practices and to empower its members by providing access to better methods for drying parchment. Through this, the Cooperative has achieved success by improving their coffee quality, supporting their farmers, and by creating an organization that enables their farmers to reach across borders with a coffee they can be proud to share with us.
Cadefihuila's smallholder farms spread across Southern Colombia in the Andes Mountain Range. These small acre farms have fertile lands and high altitudes, between 1,100 m.a.s.l. and 1,550 MASL are ideal for growing quality coffee.