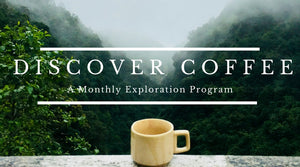 Coffee Exploration Club
Sale price Price $18.95 Regular price
Our Exploration Club is just that, an exploration into the world of specialty coffees.
Every month a new coffee is selected for our club members; unique single origin offerings and exclusive seasonal blends.
Some of which may not have been chosen on your own...and that is part of the fun of belonging to a coffee club.
While you may be able to find a cheaper bag of 'joe, our coffee Exploration Club will introduce you to the world of coffee and make you think differently about what's being sold at your local grocery store. 
Specialty coffees from around the world. 
Meticulously roasted in coastal central Florida. 
Bagged, sealed, and boxed immediately off our roaster's cooling tray.
Delivered to you within days to ensure an amazing coffee experience.
New selection every month; always ships on the 15th.
Accepting new Explorers for December shipment.
***New Exploration Club memberships must be established before the 12th to receive the current month's selection. ***
Included with each shipment:
12oz Fresh Roasted Coffee
Free Shipping
100% Satisfaction 
Subscription Details:
Monthly selections are shipped on the 15th of every month.
Exploration Club members are billed every month when coffee ships (15th of every month).
Exploration Club members can cancel at anytime without penalty.
Pre-paid options may be made available throughout the year at a promotional discount and are billed with a one-time charge at the time of purchase. 
Pre-paid terms auto-renew at the term selected, and are not refundable.
If a pre-paid option is selected as a gift, the subscription will NOT auto-revnew.
All gifted options are packaged with a message with the first shipment letting that special someone know how much they mean to you, including details of the subscription option you have chosen for them!