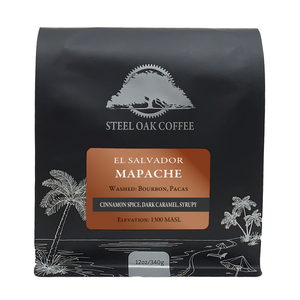 El Salvador - Mapache
Sale price Price $16.75 Regular price
Farm(s): Finca El Naranjito, Finca Casa de Zinc
Location at Origin: Concepcion de Ataco, Ahuachapan
Processing: Washed
Altitude: 1,300 MASL
Roast Level: Dark
Cupping Notes: Cinnamon Spice, Dark Caramel, Tart, Syrupy
Mapache Coffee is a fifth-generation company of coffee producers, owned and managed by Jan-Carlo and Sofia Handtke in the Apaneca Ilamatepec mountain range of El Salvador. Mapache Coffee employs over 125 locals year-round, but during harvest season, their staff swells to 600 people who work together to build coffee nurseries, replant at Mapache's six farm properties, and process the perfectly ripe cherries that come from them.
Mapache maintains a strong commitment to the well-being of the coffee forests, ensuring that every farm has a canopy protecting the coffee plants and soil. Their modern wet mill uses limited amounts of water during the washing process, then recycles and reuses that water in the same process. All the remaining pulp from the wet milling process is incorporated back into the farms as compost, returning key nutrients to the soil.
Mapache's Strictly High Grown coffees come from the two Finca El Naranjito properties and Finca Casa de Zinc, three of the company's six estates. These neighboring farms are located in Concepción de Ataco in the municipality of Ahuachapán. Bourbon and Pacas varieties make up the majority of the crops here, with these three properties accounting for 60 percent of Mapache's total coffee growing area.
Gifted with an ideal climate for growing coffee, Finca El Naranjito and Casa de Zinc sit at an average of 1,300 meters above sea level with a stellar view of the Pacific Ocean. El Imposible National Park, the largest forest reserve in El Salvador, sits just one mile away. As with every coffee we source through Mapache, you can be sure that thoughtful preparation and consistency shine through in the cup.