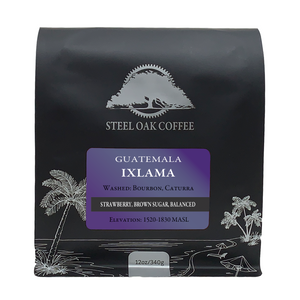 Guatemala - Ixlama
Sale price Price $16.75 Regular price
Location at Origin: Huehuetenango
Processing: Washed
Altitude: 1,520 - 1,830 MASL
Roast Level: Medium
Cupping Notes: Strawberry, Brown Sugar, Clean & Balanced
It's BACK! 
Last season this coffee was a customer favorite (and Michele's) and we are so happy we held out for it again. 
We sampled so many Guats in anticipation of what this origin can offer. There were a few that could stand on their own, but none cupped nearly as strong as Ixlama. Sometimes, you gotta just wait for the good stuff!
This coffee can bring a smile to every coffee lover; throw any brewing method at it - she'll stand on her own. From pour-over to auto drip, this is a coffee that everyone can appreciate no matter the tools in your brewing arsenal.
A true crowd pleaser with a ripened strawberry entrance, a little spice, then a whole lot of sweetness that's delivered in a medium body delight - all with an amazingly clean finish. 
About the coffee...
Huehuetenango Ixlama comes from specialty selected small producers, like Finca El Paternal & Finca Nueva Palmira, from the highlands of San Pedro Necta and La Libertad, both located in the state of Huehuetenango, Guatemala.  This shade grown coffee is harvested and brought to the mill where it is sun-dried on a patio and placed in "guardiolas".  It is separated by color via computer and density/size mechanically which results in a superior cup.