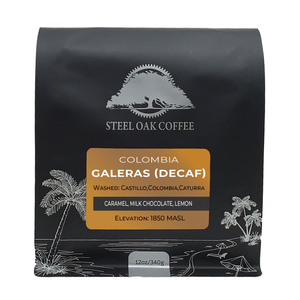 Colombia - Galeras (Decaf)
Sale price Price $17.50 Regular price
Location at Origin: Narino, Colombia
Processing: Washed. Decaffeinated using E.A. Process (Decaf De Caña)
Altitude: 1,850 MASL
Roast Level: Medium
Cupping Notes: Caramel, Milk Chocolate, Apple, Lemon
The town of Buesaco lies high on a ridge in the Andes Mountains of the Nariño department in Colombia. Promotora Cafe de Altura has its offices, cupping lab, and warehouses here, where the coop collects coffees from smallholders whose farms are tucked into the slopes surrounding the town. The cooperative works with more than 300 smallholders farmers all over the Nariño department who generally harvest coffee all year around. Here at the co-op's facilities, lots are analyzed and purchased, and the farmers are paid premiums on top of the market price. These premiums incentivize high quality standards and good agricultural practices, like avoiding the usage of glyphosate and other chemicals.
Promotora Cafe de Altura cups coffees throughout harvest delivery to build lots that are uniform and consistent in bean size and cup profile. This lot of decaffeinated coffee in particular consists of small batches of beans from farms around the Galeras Volcano. This coffee was decaffeinated using the Ethyl Acetate (EA) decaffeination process. 

What is E.A Process?
Our Colombian E.A. (ethyl acetate) decaf offering is cupped specifically for their quality and sourced by single-origin, either region or farm. We call them Decaf De Caña because they're custom decaffeinated in Colombia, using a special, natural process that utilizes a solvent of ethyl acetate, which can be derived from fermented sugar.
The process works by soaking green coffee in a solution of E.A., which bonds to the salts of chlorogenic acid in the coffee and allows for the removal of caffeine. The coffee is removed from the solvent and steamed at low pressure to remove the E.A. compounds, and the finished product retains its flavor integrity but contains almost no caffeine at all. (The beans will contain a maximum of 0.01–0.03% caffeine.)