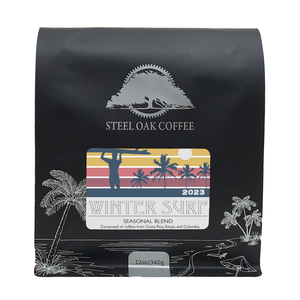 Winter Surf - Seasonal Blend
Sale price Price $17.50 Regular price
It's that time of year again. When the temperatures drop low enough to grab a jacket before heading out for the evening.
That bone shattering cold creates a craving for something both familiar and dynamic.
Here is the solution.
This year's blend it a true crowd pleaser and works with every setting you can throw at it. Morning cup - CHECK. Share with a coffee loving friend - CHECK. Accompany a great meal - CHECK. A great gift - CHECK. Sanity in cup - CHECK.
Winter Surf 2023 is comprised of a blend of specialty coffees spanning the globe: Costa Rica, Kenya, and Colombia.
Each coffee has been carefully curated, then blended at secret proportions, roasted with intention, only to fill your cup with tones of cranberry, bakers chocolate, and mandarin oranges, it's designed to make you smile, dance, and laugh the chill right off you this winter season.
Get yourself a bag...we expect this one to run out fast...it's that good!